Registration of your loyalty program in the inCust service
Dear Client!
Welcome to the website of the inCust company where you can learn all about loyalty programs and clients encouragement. We will help you to begin running your business in a new more profitable way and with a bigger number of satisfied and – what is more important – loyal clients.
For free registration of your business in the inCust system you have to click button 'Register your business'. On completing the lesson and registration, you will have access to the Control panel. The Control panel is the place where you specify the settings for the loyalty program, communicate with your clients and analyze the work.
In the form that appears enter:
Name, which we can use to contact you. (Do not enter here information about your company, you will do it later.)
Select your country and enter your mobile phone number. It is important for you to enter a valid number because SMS will come to it containing a PIN code which has to be entered for completing registration.
Check out the text of a Standard form contract and click 'Register'.
You've come to the master registration of the loyalty program!
Carefully enter the name of your business. This is the name by which you are known to your clients, such as the name of brand or store. It will be displayed as the sender's name in messages to clients.
In order to quickly get a base of loyal clients, we recommend offering each customer some immediate benefit for becoming a participant in your loyalty program. The most common schemes are bonus and discount systems.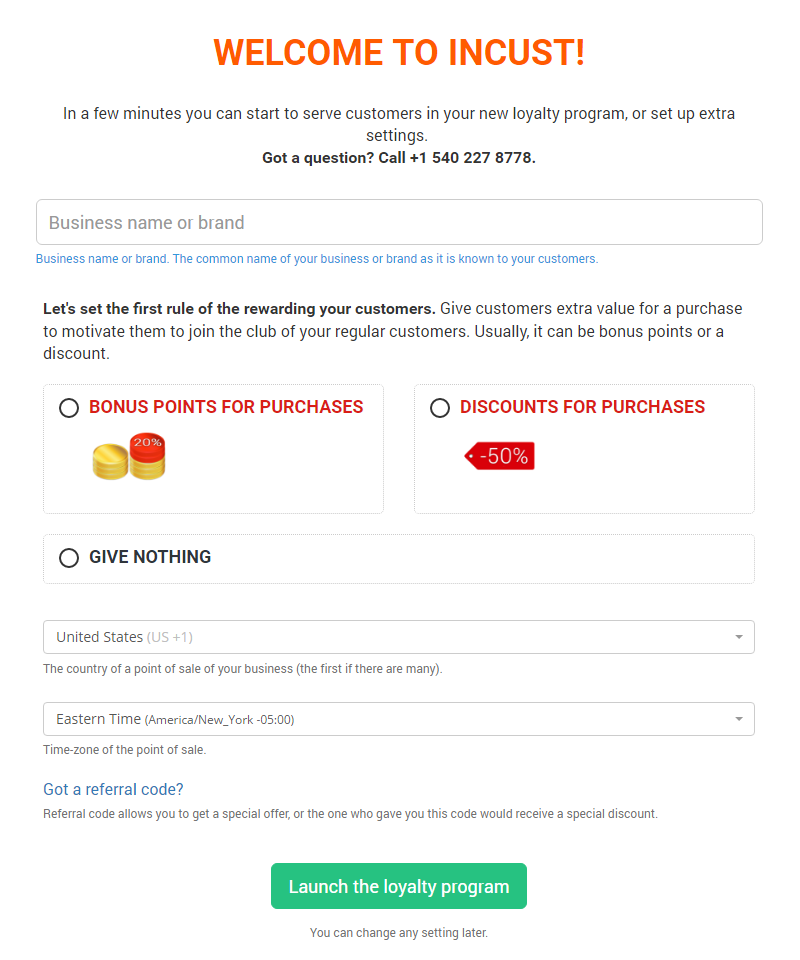 Discount is a reduction of the each current customer's check amount. It is effective immediately and motivates clients to buy more right now.
Bonus points are a postponed discount which your client can use during the next visit. Bonus points are a magnet for your buyer which motivates them to come again, because bonus points can be spent only on the next purchase.
You can also select the option 'Do not give anything', if you haven't made a decision about the offer or you don't want to give fees to all clients.
Select the country where you will do business. Attention! The currency of payments and terms of payment for your account replenishment depend on the selected country!
If you have a referral code which gives you privileges, you can enter it. It is usually provided by our partners.
Click 'Start a loyalty program'.
Congratulations!
You have everything set up and working. Now you can start collecting your customer database and give them bonus points during when they make a purchase!
You have:
The working Loyalty program – a set of rules for your business loyalty, which can be managed through the Control panel
one point of sale, registered in the system, and
a single login to the inCust Terminal – sales processing system for salespeople. This is where loyalty program rules are applied during trade operations
Take a note of the username and password for the inCust Terminal, you have to save it for the next lesson. Using the Terminal your salespeople can handle all sales and make use of discounts, bonus points or gifts.
We need to be sure that we always have the opportunity to contact with you, for example, when your customers have some questions. So we ask you to provide a working and monitored email address. To confirm the validity of the address, please, go to your mailbox, open the email, received from us, and click the text, saying that the email address is confirmed. Doing this lets you always get timely relevant information about important events, related to the inCust service.