Setting up complex pricing schemes: Commercial customers
Sometimes, there exists a need to automatically increase the price, or, in opposite, to offer a discount to commercial customers. You can use the Price Modifier to further adjust the price for goods and services according to the need. 
You can set up pricing for a commercial customer on the Account access page. The settings for a new commercial customer are located at Commercial customers => Actions => Add a new commercial customer => Commercial customer accounts. After you add access and specify the allowed products in the commercial account, the "Price modifier" tab will be available in the Account modification window.
If you need to set up pricing for an existing commercial customer, then the quick way to configure it is at Commercial customers => Edit (this button is located under each record of an already created commercial customer) => Commercial customer accounts.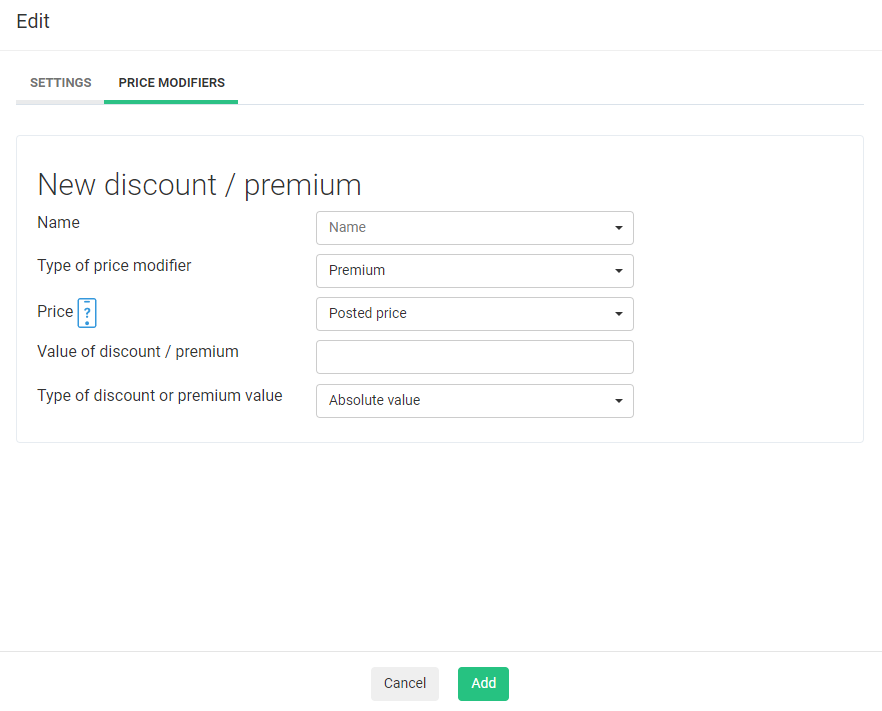 When adjusting pricing for your commercial customers, you can set the following parameters:
Name

– when you fill in this field, you will receive a list of existing products in the Brand. After selecting the desired product, these fields will be filled in automatically.

Type of price modifier

– this field allows you to specify, whether the item will be a  discount or a premium for the customer.

Price

– this option allows you to determine which price will be considered the base price (a discount or premium will be added to it). You can choose one of the following: public price = price + taxes + costs/margins; price including taxes = price + taxes.

Value of discount / premium

– this field specifies the amount of the discount or premium.

Type of discount or premium value

– allows you to select the absolute (monetary) value or percentage of the discount or premium.