5. Customers' Tanks
https://b.incust.com/tanks-linked
To build the routes, you need to create customers' fuel tanks and connect them with the fuel product, which will be further dispensed to the above-mentioned customer's tank. This is to ensure that your driver does not accidentally dispense a different grade of fuel from the one that may or should be dispensed to the customer.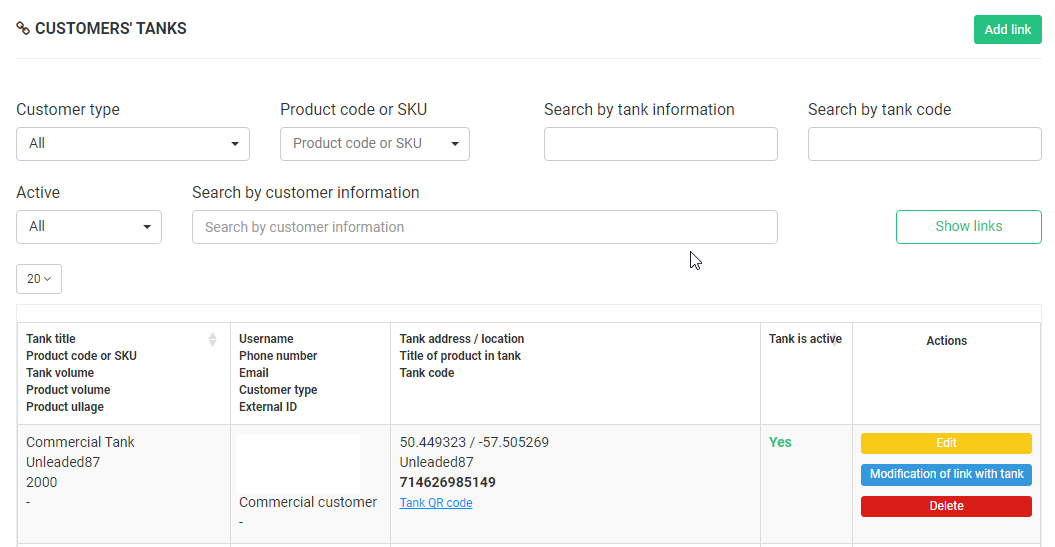 Search and filtering of customers' Fuel Tanks:

Customer type

allows you to browse customers by category: Customer, Commercial customer, or All.

Product code or SKU

—

the filter gives enables to find customers by the article (item number) of fuel goods.

Search by tank information

—

using this field, you can find fuel tanks of customers by a certain feature of the tanks. For example, if you enter the word "Diesel" in this field, the search will find customers and tanks which contain this word.

Search by tank code –

allows

searching of a tank by code.

Active

— this field allows you to browse the full list or the list of only active or inactive tanks.

Search by customer information

— the field allows you to search for a customer by data (name, phone number, e-mail).



On the page with customers' Road Tankers, it is possible to perform certain actions, namely:
Edit

– complete editing of a previously added tank, where you can change the values specified earlier;

Modification of link with tank

– change of the

Product code or SKU

in the tank.

Delete – this command removes the connection between a fuel tank and a customer