Management of customer interactions for shopping malls
The inCust platform assists you in managing customer interactions throughout the whole lifecycle. We can build a solution for a shopping mall that will enable you to build relationships between the shopping mall, businesses, partners, and customers. At the same time, we know how to combine automation of relationships with the individual approach to each customer.
And, as always with inCust, we can set up the platform modules precisely to match your needs. This is possible thanks to the tools which don't require extra hardware or integration.
What we can do for a shopping mall:
drive additional income from parking lots and other places with a large flow of people

reduce advertising costs

create a loyalty and rewards program for shopping mall visitors and make this program shared between all or selected tenants

bring positive emotions to customers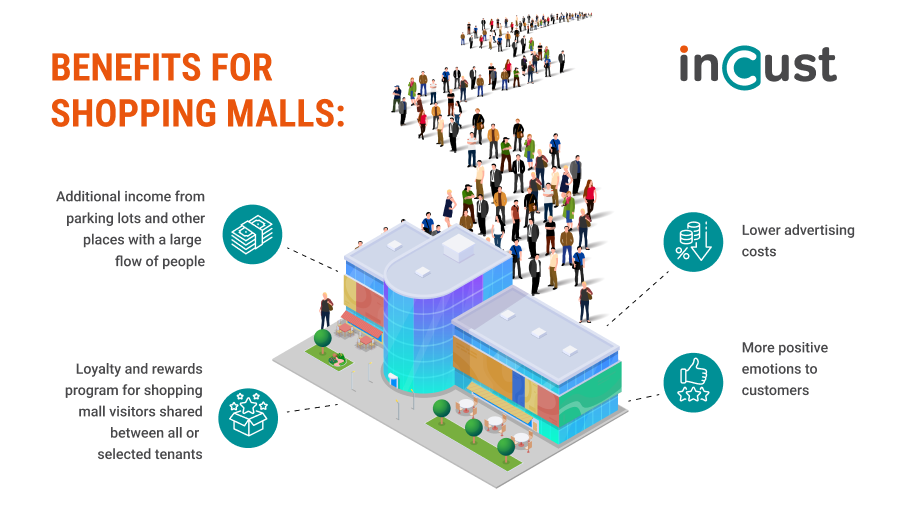 With our help, you can power up interactions with customers, improve their experience, make customers come back sooner and buy more. For this, any shopping mall needs a strong ecosystem that benefits everyone. It's important to involve a customer and make them interested from the start of their visit; tenants expect a large flow of customers; management of the shopping mall doesn't tolerate of profits; and all the interaction between participants should be smooth.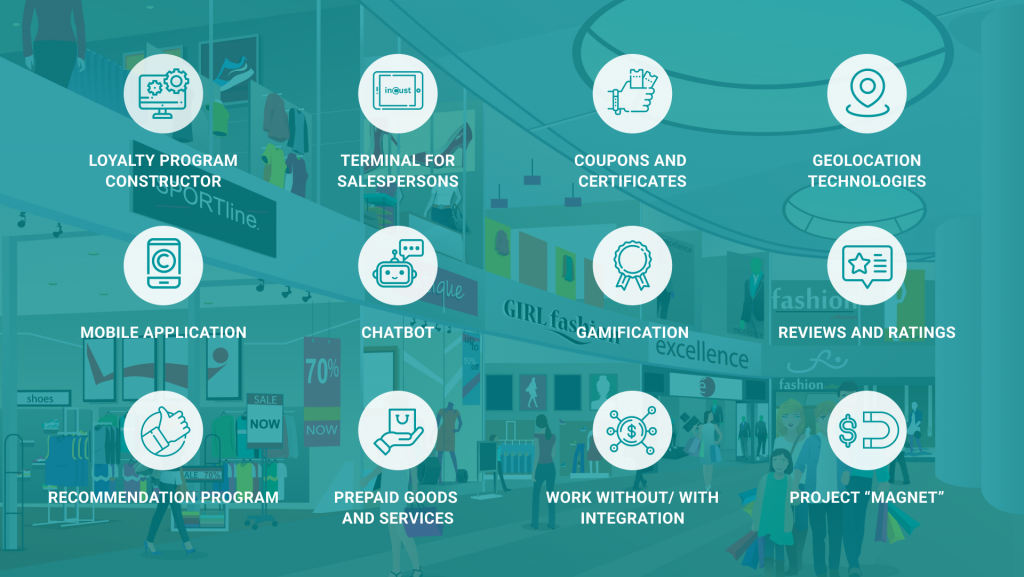 What tools can you use to do this?
Loyalty program constructor
The inCust platform has a powerful construction kit for loyalty program that enables you to build the most diverse options for interacting with a customer (game mechanics, bonus points, discounts, gifts).
Terminal for salespersons
This cash register application enables you to register sales, calculate and apply discounts and bonus points, process coupons, authorize customers and use other services provided by the inCust platform. Terminal can be used on a computer or a mobile device based on Android and iOS. The application can be used with or without integration.
Module "Coupons and Certificates"
Coupons and certificates make cross-marketing with partners possible even without integration between participants' information systems. You will be able to sell tenants' products, direct a stream of customers to them, and at the same time there will be no complications with mutual settlements since all processes are automatic and transparent. You will see all the customer actions at the partners' points of sale.
Geolocation technologies
Geolocation technologies allow you to send personalized offers when a  customer who matches certain criteria appears near your shopping mall or at specific locations in the mall. For this, you need to install iBeacons. This technology also supports game schemes, such as "pay per visit".
Mobile application
We can create a branded mobile application for you. In such an app, you may place an informational map of the shopping mall, a loyalty card, publish special offers and coupons. You can set all points of sale and their location through the Business Control Panel. The mobile application can be integrated with an indoor positioning system based on Philips Light, iBeacons, and similar technologies. When using iBeacons, we can simultaneously credit game points or loyalty program bonus points and also track location and then send special offers.
Chatbot
If a branded application is not suitable for any reason, you can launch an easy alternative – a chatbot. With a chatbot, you will have a direct channel of communication with customers, receive feedback, send current offers. Customers will be able to show their loyalty program card to the salesperson, view the available bonus points balance and take many other actions.
Gamification
The platform includes mechanisms that allow customers to credit bonus points using the information provided on checks. It is also possible to arrange games that use information from checks. Such mechanisms become especially useful when checks include a fiscal QR code (it is mandatory to be printed on a check in some countries).
Reviews and Ratings
You can easily collect ratings and reviews from customers and quickly respond to them. Reviews can be collected both during the interaction with a customer (e.g., by placing a link or a QR code on a table in a restaurant), and after a customer's visit of the point of sale (for example, by sending an invitation to leave a review one hour after the sale of a product or service).
Recommendation program
You can attract new customers and clients using rewards for recommendations. Invite existing customers to recommend your shopping mall and its tenants to friends and give them bonus points or other rewards when new customers come, following the recommendations.
Prepaid Goods and Services
Using this module, you can create a gift set (certificate) that will be valid on the territory of the shopping mall or in specific shops, restaurants, and entertainment places. This is much more attractive for a customer than receiving a certificate for one store. You can easily see where the certificate was used, and inCust takes care of all the complications of mutual settlements.
Ease of integration or work without integration
We will provide you with an API for integration into applications you use (POS, analytical solutions, etc.). If integration is not required or not possible, we will help you choose the most convenient way to work without it. So, the process of using inCust is easy for all participants.
Project "Magnet"
Thanks to the large flow of people in shopping malls, there exists an opportunity to earn money from this flow. For this, we offer to give customers cashback for purchases. They may spend this cashback in the shops in the shopping mall. Partners will pay for it in order to attract more customers and to make them interested. 
This project is beneficial for everyone: a customer receives a discount in the store, a partner receives new customers by providing a discount, and you receive a percentage for bringing a customer. You can learn more about the project in this presentation.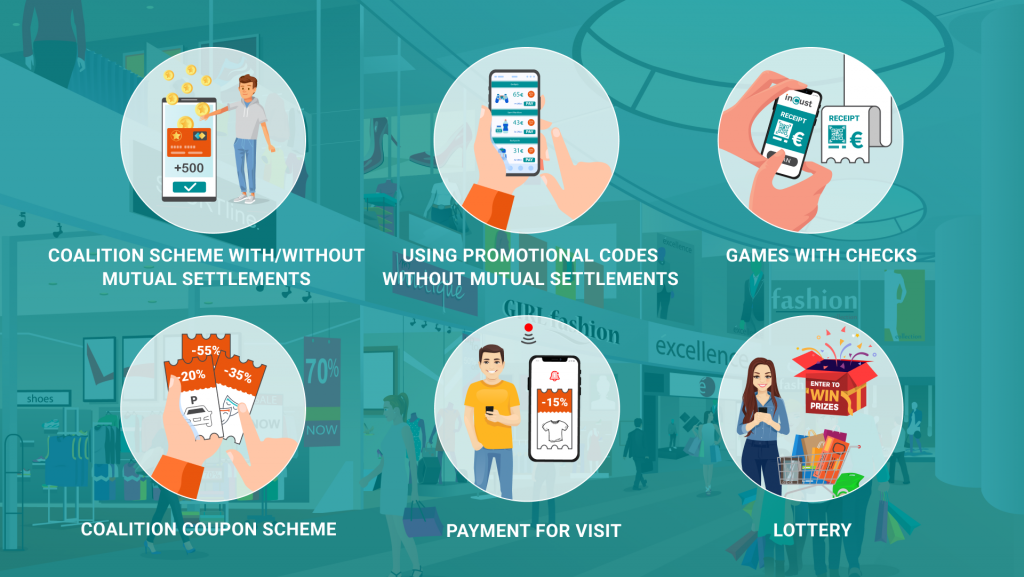 Below, we list the popular schemes for a shopping mall
(this is an example, and there are many schemes)
Coalition scheme with mutual settlements

Bonus scheme without mutual settlements

Bonus-discount (promo codes) scheme without mutual settlements

Pay per visit

Coupon scheme

Games based on checks

Lottery
Coalition scheme with mutual settlements
In this scheme, a customer receives cashback, which he can spend at a partner in the coalition scheme.
How a purchase is registered and bonus points are credited in this scheme:
QR code. If there is a QR code on checks, a customer can scan it and receive bonus points. Using the QR code, inCust will define in which store the purchase was made (no integration required).

Via the Terminal application. This application can be installed on any phone, tablet, or computer. A salesperson uses a camera in the device to scan the QR code, which is displayed in a customer's application, and specifies the sum. Terminal calculates and credits bonus points.

A customer scans a certificate with a mobile application and receives bonus points to their account. A variation of this scheme – a salesperson does not issue a gift certificate, but gives the customer the code of this certificate to scan. The system accounts, which seller issued which certificates and in what quantity.

Possibility to integrate automatic crediting of bonus points in the POS system of the seller via API.
How a partner store redeems bonus points:
A cashier in a partner's point of sale may use the Terminal application on any phone, tablet, or computer to redeem bonus points. The cashier scans a QR code in the customer's application with the device's camera, enters the sum of purchase, and redeems the customer's bonus points as a discount. The application tracks the bonus points on the customer's account, the acceptable withdrawal amount, and also calculates the total amount payable after the withdrawal. Next, the cashier enters the redeemed number of bonus points in their POS system as a discount.

A customer uses bonus points to "buy" discounts or gifts from partners. For this purpose, we offer a special type of inCust system coupon named "external coupon". A partner provides the shopping mall with a list of unique promotional codes that the shopping mall uploads to the inCust system. These codes are sold to a customer for bonus points, and the system provides the customer with a new unused code. The customer comes to a store and tells a promotional code to the cashier or shows their QR code on the phone screen. The cashier enters the promotional code of their store or chain into the POS system. This option does not require integration and is applicable even for points of sale without any automation: for example, a list of codes can be printed and the cashier crosses out the issued code with a pen in the paper.

Integration with a POS system of a merchant. In the POS system, it will be possible to scan a customer's QR code and redeem bonus points as a discount. InCust provides a free API to implement this scheme.
Coalition bonus scheme without mutual settlements
Typically, with a coalition loyalty rewards program, a customer may receive bonus points in one place, such as a pizzeria, and then spend them in another, such as a footwear store.
To carry out the settlement procedure between different partners, it's required that the shopping mall receives money from the pizzeria and sends the money to the footwear store, i.e. provides money management and mutual settlements.
If the shopping mall wants to create a coalition loyalty program, but there is no possibility to make mutual settlements between different partners, then we can change scheme a bit. The customer, as usual, receives bonus points from any of the partners; for example, s/he received 10% of the order in a pizzeria back as bonus points. And when the customer goes to the partner to spend these bonus points, they will be able to pay only a certain percentage, e.g., 15%, of the order sum with bonus points.
This scheme works like this: a customer pays a part of the order sum with bonus points, and from the point of view of the business, this business simply provides a discount for a certain amount. In order to implement such a coalition scheme, it is enough for a shopping mall to clarify with partners what percentage of the discount they are ready to give to customers, and offer a customer exactly this percentage of bonus points to use in this store. The inCust platform allows you to set up a certain number of bonus points for each partner, which can be spent at a particular point of sale.
As a variation of this scheme, it is possible to make it so that a customer may earn bonus points in places and stores that belong to the shopping mall, such as a parking lot, and spend those points in other places or stores of this shopping mall.
For example, when entering the parking lot, a customer receives €5 in the form of bonus points for purchases in this shopping mall. The customer can place an order at a pizzeria and pay up to 15% of the order sum with bonus points.
Using promotional codes from a partner to give gifts without mutual settlements
This scheme allows a customer to choose a gift and receive it from a partner. The key feature of this scheme is that no integration is required. The customer just needs to tell some code that is understandable to the cashier's POS system.
To implement this scheme, the mall may:
redeem gifts from partners

get free gifts (discount coupons work well as gifts)
How it works:
A shopping mall creates a series of coupons in the inCust system and uploads promo codes as coupons. Next, a store or gift showcase is set up, where the customer can receive a certain gift for a certain number of bonus points. When issuing a coupon, the system automatically selects an unused promotional code and provides it to the customer. The customer shows the QR code on the smartphone screen or tells it to the cashier.
For the cashier, this will be a regular promotional code that the POS system understands, so they will be able to give out a gift or a discount.
Also, this scheme works if the POS system is not used or does not support promotional codes. In this case, a partner puts down a list with gift codes and their description and prints it. When the customer tells the code to a cashier, the cashier finds this code in the list and crosses it out, puts the date and signature, and gives a gift to the customer.
Payment for visit
A shopping mall involves a customer in a game in which the customer must go through the maximum number of stores. For each store visit, the customer would receive certain bonus points. The customer goes shopping in the mall and automatically receives bonus points or must scan a QR code. They automatically receive bonus points when they enter the operating area of ​​a device called "iBeacon". This is an inexpensive device that can be placed in a store; it works via Bluetooth. As soon as the customer enters the coverage area of ​​the iBeacon, they immediately receive a push notification that a certain number of benefits ("money", bonus points, etc.) has been credited to their account in the system.
If there is no possibility to install equipment, a simpler scheme can be implemented. A store may place QR codes in different places, and customers would scan those codes and receive bonus points and discounts.
The platform ensures that the customer cannot scan the same code twice within a short period.
The customer may spend bonus points in the ways described above.
Bonus points may have an expiration date; also, they can be coalition bonus points (see the information above) or be used only with a specific partner. For example, for the fact of a customer's visit to a particular store, this customer will receive expiring bonus points, which they can spend today as a discount in that store.

Coalition Coupon Scheme
This scheme is great for companies with a large flow of customers to exchange them. How it works: a customer makes a purchase at the shopping mall and receives a coupon with an offer from another store. For example, a customer bought clothes and received a discount for coffee. Or, a customer can get free parking by paying for services or goods from partners.
Games with checks
Using the inCust platform, you can run different game scenarios. E.g., a shopping mall can print various information on the checks. Using this information, customers may collect something or, by playing the lottery, win discounts on the next purchase.
The system can be extended with artificial intelligence elements that recognize the check number or other information on it. This will make it possible to implement more complex game scenarios.
Lottery
If a shopping mall or a store is not ready to give away permanent bonus points, the schemes described above can be turned into gaming ones. For example, a certain number of game points or bonus points can be played between customers. This way, the total cost of customer acquisition can be reduced.
Please note that these schemes work both with and without integration. The schemes allow you to collect a database of customers, which allows you to increase the flow of customers on certain days. You can achieve this by sending notifications or, for example, coupons valid on a certain day or period. Such mailing is based on the collected customer database.
Let's take a look at how a customer service program may look like from the point of view of an average shopping mall visitor. The customer arrives by car, and the camera at the entrance recognizes the car number. The customer immediately receives valid special offers from mall's stores on the phone or by email. The customer comes to these stores and makes purchases. After shopping, the customer wants to eat and goes to a cafe, where, after making a purchase, they receive a coupon for free parking. Or, the customer can pay for parking at the cinema by buying a ticket there.
One of the strengths of the platform, which has no analogs in the market in terms of functionality, is the electronic processing of funds by phone number or using an email address. The system provides plenty of opportunities for non-monetary settlements between all participants of the customer interaction program.
We have an option to install the inCust platform on-premises and select the necessary modules, or use the same inCust modules as a cloud service. In any case, our specialists provide technical support and update of all platform components, from the operating system to applications and chatbot.
All components of the platform can be branded under the brand or trademark of a shopping mall. If necessary, we provide a customized mobile application and chatbot as well. We are also ready to refine the functions you need, if they are not currently available.
All the functionality of the platform may be tested during a free trial period (15 days)
The articles that may be of interest: